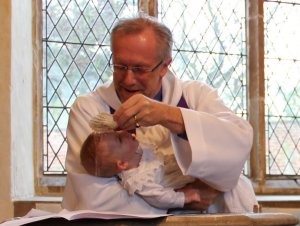 Many people are baptised as babies (often called 'christening', it's the same thing). Some people are baptised later on in life. There is no right or wrong time; some people make the decision for themselves as teenagers or adults.
For small children, the decision is made for them and baptism is a permanent blessing. The action cannot be cancelled or repeated. Parents may want to consider whether this is a decision that should left to the child – a service of dedication is an alternative, where the child may be both blessed and parents and others acting in the same way as godparents still make similar promises as in the baptism service.
We like to baptise on Sundays at our regular services because baptism is about welcoming the person into the church community but it's not always appropriate. Talk to us and we'll sort out something that's right for you and your family.
If you would like to talk about baptism for yourself or your child, get in touch with Revds Alan or Catherine and they will contact you to come and see you.
There is more information on the Diocesan website.