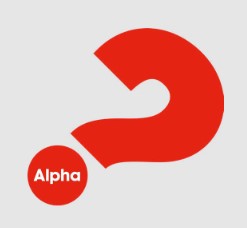 We're starting again this autumn on November 1.
Alpha is a series of meetings that centres around the Alpha series videos (see below). Currently we're planning online meetings.
FAQ
How long will meetings last?
Start 7.30 p.m. We finish by 8.15.

The Guest Booklet
If you do not yet have the red Why am I here booklet, then we will endeavour to get one to you. Here are links to PDF copies of the first two sessions: session 1 session 2
Session dates
We start on November 1 and run weekly. There'll be a break over Christmas/New Year.
The Videos
Would you watch the session's video prior to the meeting? Playing it during the Zoom meeting doesn't work brilliantly. If you watch at a time of your convenience you can think about questions you'd like to ask, though no-one is put on the spot in our meetings. The videos are available below. They will run online so you won't need to download anything.
1 -Is There More To Life Than This?
2 – Who Is Jesus?
3 – Why Did Jesus Die?
4 – How Can I Have Faith?
5 – Why and How Do I Pray?
6 – Why and How Should I Read the Bible?
7 – How Does God Guide Us?
8 – Introduction to the weekend
9 – Who Is The Holy Spirit?
10 – What Does The Holy Spirit Do?
11 – How Can I Be Filled With The Holy Spirit?
12 – How Can I Make The Most Of The Rest Of My Life?
13 – How Can I Resist Evil?
14 – Why and How Should I Tell Others?
15 – Does God Heal Today?
16 – What About The Church?
Alpha Booklets
There are copies in our churches. Take one home to study and to share with friends. If you know someone who might benefit from Alpha, then you may want to try out Alpha now and encourage them to join the next one. If you cannot get to church then do ask someone to get one for you.

How is Online Alpha different?
One of the joys of Alpha is the getting together to share food, and for the hosts to offer hospitality. Sadly, this can't happen at the moment, though Zoom is amazing. Bring a cup of tea or coffee along with you to the meeting.
Is it a course?
It is a series of meetings where people can talk together, put their own points of view and ask questions. The leaders do not "correct" people—in many cases, points of view are challenged by a later video in the series or as the group talks together.
In Alpha, people are given time to consider the Gospel message within a group which they grow to befriend and trust. No-one is put on the spot by the leaders, and there is no test at the end! The time scale may be a challenge to our commitment, but perhaps we can all pray that God creates space for us to do it. After 30 years of existence, the structure of Alpha has not changed much, and lives are still being changed by it.
Paul