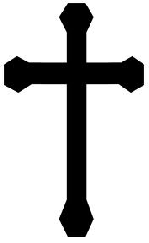 A funeral marks the close of a human life on earth. It's the chance for friends and family to express their grief; to give thanks for the life which has now completed its journey in this world; and to commend the person into God's keeping.
A funeral service in the Church of England – whether in a parish church or a crematorium chapel – may be very short and quiet with only a few members of the family present. Or it can be an occasion of great solemnity with music, hymns and a packed church. Whatever you choose, the words and actions all speak of a loving God and the preciousness to him of every human being.
If you would like to talk about arranging a funeral, get in touch with our Reader,  Carol Rivett,  and she'll arrange to come at see you at home.