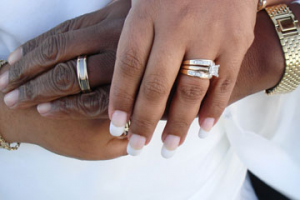 We welcome you to have your wedding with us (you will need to have a qualifying connection*).
Christian marriage is blessed by God. It's a serious commitment, and the promises you make to each other are for life.
Over half the population believe that Church is the right place to come. Recently it has become even easier to marry in the church of your choice. Over 53,000 couples get married in Church of England churches every year.
If you would like to talk about arranging a wedding, get in touch with Revds Alan or Catherine and they will contact you to arrange a meeting. You will probably have a lot of questions to ask, so the Church of England has a weddings website with information about the service, suggestions for music and much more.
*you can find out if you have a 'qualifying connection' by going to the Church of England's weddings website.