Lent 2023 Day 39: Fri 7 Apr
2 Peter 1:3-10
His divine power has given us everything we need for a godly life through our knowledge of him who called us by his own glory and goodness. Through these he has given us his very great and precious promises, so that through them you may participate in the divine nature, having escaped the corruption in the world caused by evil desires.
For this very reason, make every effort to add to your faith goodness; and to goodness, knowledge; and to knowledge, self-control; and to self-control, perseverance; and to perseverance, godliness; and to godliness, mutual affection; and to mutual affection, love. For if you possess these qualities in increasing measure, they will keep you from being ineffective and unproductive in your knowledge of our Lord Jesus Christ. But whoever does not have them is short-sighted and blind, forgetting that they have been cleansed from their past sins.
Therefore, my brothers and sisters, make every effort to confirm your calling and election. For if you do these things, you will never stumble, and you will receive a rich welcome into the eternal kingdom of our Lord and Saviour Jesus Christ.
In terms of complexity, the first sentence above is worthy of the Apostle Paul! If you've ever tried untangling what Paul is saying you can often get to the end but forget what he said at the start.
Here's a rough precis:
You want to live a godly life? Stop trying. Start allowing Christ in you to reign. Start listening to his Holy Spirit. Remember that Christ Jesus has done it all for you. He came to earth in loving obedience to Father God and gave his life for us, bringing us forgiveness. He was raised from death into his eternal body, and we may have new life in him – all we need to do is accept the gift.
You could try drawing. Take a blank sheet of paper and jot down the key words and phrases. Embellish and illustrate with circles and boxes, lines and arrows. Use different colours. Here's a very rough starter for ten (it may appear elsewhere if you're reading this as an email):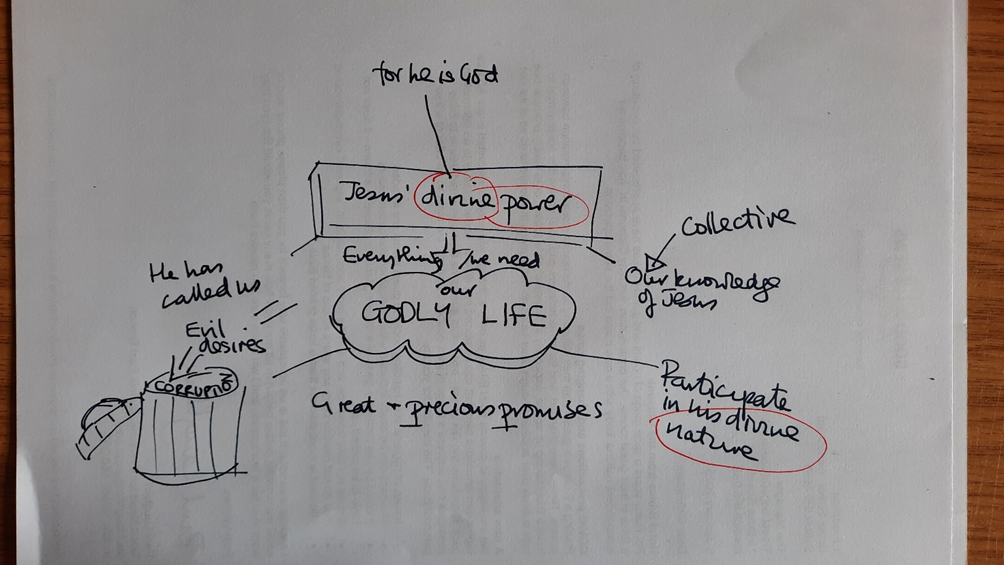 Back to the words above. There is nothing else we need for a godly life. No liturgies, no religious observations, no pilgrimages, no incense, no special garments – these have their place and may be helpful but they are not essential to godly living. What God requires is that we know him, and we do that through knowing Jesus. Knowing Jesus is a personal experience, not an information-gathering exercise. Theology alone does not bring anyone into the Kingdom.

Today, spend some time pondering the goodness of the Cross:
How do glory and goodness come together?
What does Jesus' death mean to you?
Love so amazing, so divine – how have your soul, your life, your all, responded?
How do you see your relationship with Jesus?
How forgiven are you?
Is there anything you've held back in your relationship with Jesus?
Are you completely free from the corruption in the world?
How sure are you about your calling?
Your election?
Father God, open my heart to receive Jesus to the entirety of my capacity to receive him. Amen.
Thank you, Jesus, for the blood